This vignette combines an Italian Soho leather sectional sofa, Bolle floor lamp, Huamea tempered glass occasional table, Tabriz Medallion pattern rug and hand-blown ornamentation from the Reverso collection.
This balanced combination of materials and textures feels modern and functional but also forward in its design elements. Please scroll down to read more about these pieces.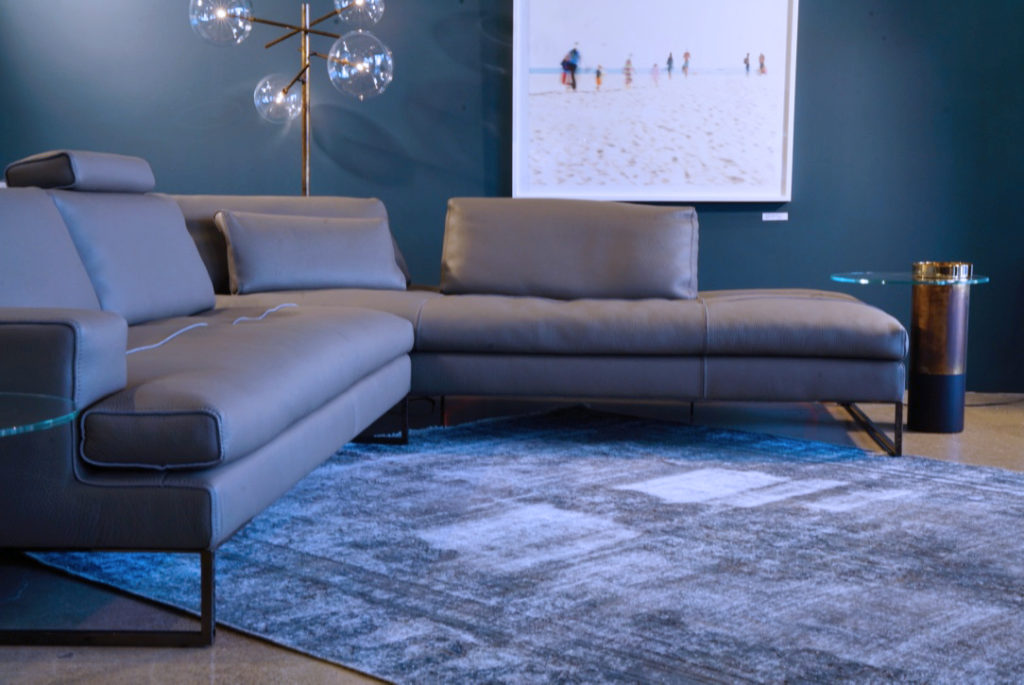 SoHo Sectional Sofa
Clean lines, high-quality leather, sleek base, exceptional workmanship and sofa sections that easily adjust for comfort and purpose define the Italian Soho sectional sofa. The sofa is fully customize-able and available in a range of fabrics and finishes.
Huamea Occasional Table
These stunning Italian coffee and side tables include a 10mm transparent, extra-light tempered glass top with an open pore or rust colored and lacquered wooden base. Other options include bright brass, hand burnished brass, coppered brass or black chromed metal parts in various combinations. See how quickly they draw the focus of the room.
Bolle Floor Lamp
Visually compatible with the Huamea occasional table, the Italian-design Bolle floor lamp includes hand-blown glass balls with a hand-burnished brass base and limbs. The light is warm and adjustable.
Floor Design Area Rug
Uniting the various components of the vignette is a Tabriz Medallion wool pattern rug, courtesy of our designer friends at Floor Design.
Reverso Collection Ornamentation
Evoking beauty and harmony, Sasha Walckhoff's hand-blown silvered ornament from the Czechoslovakian Reverso collection is featured atop the Huamea occasional table.
Only at NIDO living
Find this vignette and many of the individual pieces exclusively in the Bay Area at NIDO living. Visit our showroom in the San Francisco Design District or request an appointment with one of our expert interior designers.
View our Pinterest boards for even more images of our modern home furnishings.